February 17th, 2022 | by admin_me_wp | posted in Uncategorized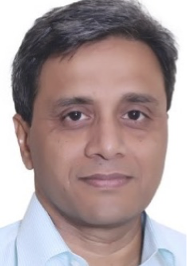 Faculty Name: Dr. Suhas S. Joshi
Designation: Professor, Director
Email: ssjoshi@iiti.ac.in                                    Office Contact: +91 731-6603130
Research Areas: 
Modeling machining of 'difficult-to-machine' materials (MMCs, Inconel, Titanium)
Modeling and development of micro-machining processes.
Laser micro-machining, LIGA and Nano-polishing.
Biosketch:
Dr. Suhas Joshi is currently the Director, IIT Indore. He is a Fellow of the Indian National Academy of Engineering, and the National Academy of Sciences.
Prior to joining IIT Indore as the Director, Dr. Joshi served as a Rahul Bajaj Chair Professor in the Department of Mechanical Engineering at IIT Bombay. He also served as the Dean of Alumni and Corporate Relations (2017-2022) and the Head of Mechanical Engineering Department (2014-1207) at IIT Bombay. He served as a Visiting Faculty in Mechanical Science and Engineering at the University of Illinois at Urbana-Champaign, USA (2005-06).
Dr. Joshi has been a recipient of BOYSCAST fellowship of Govt. of India (2002), 'Best Faculty' award of Mech. Eng. Dept., IIT Bombay (2007), and 'Dr. P. K. Patwardhan Technology Development Award' of IIT Bombay (2008).
Dr. Joshi works on improving the productivity and quality of multi-scale machining processes through physics-based modeling and characterization. He has undertaken over 38 research, consultancy, and infrastructure development projects sponsored by aerospace, nuclear, defense, and private organizations in India. He has established excellent research infrastructure for micromachining, laser micro-machining, and titanium machining. During 2009-14, he spearheaded the establishment of 'National Centre for Aerospace Innovation and Research (NCAIR)', at IIT Bombay as its founding Principal Investigator. The centre is an industrial consortia mainly sponsored by Govt. of India, The Boeing Company, and IIT Bombay.
Dr. Joshi has served as an Associate Editor of Trans. ASME, Journal of Manuf. Sci. and Eng. (2007-14). He is presently an Associate Technical Editor of Machining Sci. and Technol. (Taylor and Francis) (2010-) and, the Editorial Board Member of International Journal of Machine Tools and Manuf. (Elsevier) (2013-2018) and Indian Journal of Engineering & Materials Sciences, CSIR-NISCAIR (India) (2015-).
Dr. Joshi has supervised a post-doctoral and 18 doctoral students. He is presently guiding another 6 doctoral students for their Ph.D. He also has supervised more than 112 masters dissertations at IIT Bombay. Dr. Joshi has over 300 publications including 179 in referred international journals and five book chapters to his credit. He has a phenomenal h-index of 41 (Google Scholar).