Dr. I. A. Palani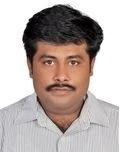 Faculty Name: Dr. I.A. Palani
Designation: Professor
Research: Smart material and structures Laser assisted surface processing and micro-manufacturing, Mechatronics system design, optical instrumentation,
Laboratory: Mechatronics and Instrumentation Lab
Email: palaniia@iiti.ac.in        Mo.No. 9009356097       Office: +91731-6603232
Website: http://drpalaniia.webs.com/  , http://mechatronicsiiti.webs.com/
Smart Materials and Structures
Shape memory alloy
Laser assisted Surface processing
Laser based micro-manufacturing
Mechatronics system design
Optical Instrumentation, soft robotics
Biosketch 
Dr. I. A. Palani is working as a Professor in the Department of Mechanical Engineering at the IIT Indore.  After completing his Doctorate from Indian Institute of Technology Madras, He worked as a post doctoral research scientist in Graduate school of Information science and electrical Engineering, Kyushu University, Japan.  He has developed Mechatronics and Instrumentation Lab at IIT Indore. His area of expertise includes laser assisted surface processing, micro-machining, Smart materials and shape memory alloys. He has published more than 100 international journal publications and he has filed 6 Indian Patents. He has executed project from different funding agencies such as DST, SERB, DAAD, JSPS, DRDO, MHRD worth 6 crores. He has closely worked with industries such as Volvo Eischer, John Deere, WABCO as technical consultant. He has strong research collaboration with University of IFW Dresden Germany, Kyushu University, Japan and Jeju University, South Korea, St Petersburg state University, Russia and Purdue University, US. He is a life member in Indian Laser Association, RRCAT Indore and Smart materials and structures, IISC Bangalore. He has received Alumni award for the year 2015 under research and innovation. He is a recipient of Kyushu university friendship scholarship and AICTE National doctoral fellowship. He is a member of SPIE, Indian Laser Association, Institute of Smart Materials and Structures. He was a founding Head of Metallurgy Engineering and Material Science at IIT Indore, Followed by heading the Mechanical Engineering Discipline at IIT Indore. Currently he is the Dean Research and Development at IIT Indore.