Dr. I A Palani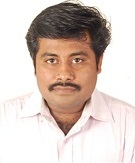 Faculty Name: Dr. I.A. Palani
Designation: Associate Professor
Research: Smart material and structures Laser assisted surface processing and micro-manufacturing, Mechatronics system design, optical instrumentation,
Laboratory: Mechatronics and Instrumentation Lab
Email: palaniia@iiti.ac.in        Mo.No. 9009356097       Office: 07324306508
Website: http://drpalaniia.webs.com/  , http://mechatronicsiiti.webs.com/
Smart Materials and Structures
Shape memory alloy
Laser assisted Surface processing
Laser based micro-manufacturing
Mechatronics system design
Optical Instrumentation, soft robotics
Biosketch
Dr. I. A. Palani, has a B.E degree in Production Engineering from University of madras with university rank in the year 2004. He completed his M.E in Manufacturing Engineering from Anna University. He completed his Ph.D in Department of Mechanical Engineering from IIT Madras, India in 2010. He was working as a Post-Doctoral Research Fellow in Graduate School of Information Science and Electrical Engineering, Kyushu University, Japan. He has been serving in IIT Indore from January, 2012. Currently he working as Associate professor in the Discipline of Mechanical Engineering at IIT Indore, He has developed Mechatronics and Instrumentation Lab at IIT Indore. He is also heading the Metallurgy Engineering and Material science at IIT Indore for the past three years. His area of interest includes smart materials and structures, laser assisted micro-manufacturing, Mechatronics systems design and soft robotics etc. He has published more than 50 research publications in reputed international journal, 4 book chapters and more than 75 research publications in conferences. He has filed 4 patents in the area of Shape memory alloy based devices and structures. He has projects worth Rs 2.5 crores from different funding agencies such as DST, UAY, DRDO etc. He is involved in consultancy project with industries such as Wabco India LTD, Volvo Eischer Ltd etc. He has received international project under different schemes such as DST: DAAD, DST: JSPS,DST:IKERI and DST:EPSRC. He has strong research collaboration with University of Cambridge UK, IFW Dresden Germany, Kyushu University, Japan and Jeju University, South Korea. He is a life member in Indian Laser association, RRCAT Indore and Smart materials and structures, IISC Bangalore. He has received Alumni award for the year 2015 under research and innovation. He is a recipient of Kyushu university friendship scholarship and AICTE National doctoral fellowship. Recently, he has been nominated as the president of SPIE student chapter.