Dr. Shailesh I Kundalwal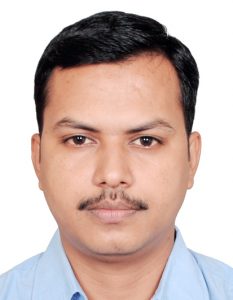 Faculty Name: Dr. Shailesh I Kundalwal
Designation: Assistant Professor
Research: Computational Nanomechanics of Solids, Finite Element Analysis of Composite Structures, Nanomechanics & Micromechanics of Composites, Nanotechnology in Engineering, Smart Materials and Structures
Applied and Theoretical Mechanics (ATOM) Lab: 1B-203B
Email: kundalwal@iiti.ac.in          Tel: 07324-306692            Office: 1B-203B
Website: http://www.sikundalwal.com/
Research Areas:
Design
Solid Mechanics
Theoretical and Applied Mechanics
Micromechanics and Nanomechanics
Biosketch:
Dr. Shailesh I. Kundalwal is an Assistant Professor of Mechanical Engineering at Indian Institute of Technology (IIT) Indore. Prior to joining IIT Indore in 2017, he was the Banting Fellow at the University of Toronto. He earned his Master of Technology and PhD degrees from IIT Kharagpur, both in Applied Mechanics. He had proposed a novel multifunctional Fuzzy Fiber Reinforced Composite in his doctoral studies which created the crucial breakthrough in the field of hybrid nanocomposites. During three-separate international postdoctoral stints, he worked in the field of multiscale modeling of composites and nanotechnology in engineering. He has authored 30 research articles (excluding conference papers and chapters) in reputed international journals. He is also contributing as a reviewer on several international journals and Elsevier books in the broad field of mechanics and is a member of professional bodies such as ISTAM, ASME, CSME, APS and IEI (I).
Awards/achievements
Albert Nelson Marquis Lifetime Achievement Award-2017.
Outstanding Faculty Award in Engineering from Venus International.
Biography listed in Who's Who in America – Nov 2016.
Nominated for the prestigious John Charles Polanyi Prize 2017 by the University of Toronto.
First holder of the prestigious Banting Fellowships Award in the Department of Mechanical and Industrial Engineering (MIE), University of Toronto.
Recipient of the prestigious Banting Postdoctoral Fellowships Award-2015 (highest Canadian award for national & international scientists).
Elected as the judge for the MIE Research/Graduate Symposium at the University of Toronto, Jun 2014-2016.
Recipient of Senior Research Associate Fellowship (Scientist's Pool) of Council of Scientific and Industrial Research, Govt. of India, 2013.
Best Teaching Assistant Recognition from the Department of Mechanical Engineering, IIT Kharagpur.
Recipient of Special Doctoral Support Grant in recognition of PhD Thesis's distinguished contribution, IIT Kharagpur, 2013.
Ranked first in the postgraduate specializations of Applied Mechanics, IIT Kharagpur, Jul 2009.
Recipient of an honorary Professor D. P. Ghosh Memorial Award for being the most outstanding student in the Department of Mechanical Engineering, IIT Kharagpur, Jul 2009.
Recipient of National Graduate-Doctoral Fellowships, All India Council of Technical Education, Jul 2007–Jan 2013.
Significant findings/graphical abstracts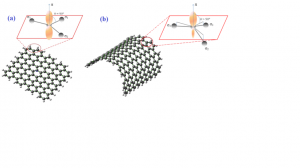 Graphene systems in which π-orbitals are (a) symmetric, and (b) asymmetric [Carbon, 117, 462-472 (2017)]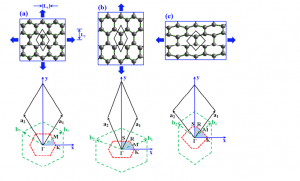 Graphene systems with symmetrical and asymmetrical strain distributions [Carbon, 117, 462-472 (2017)]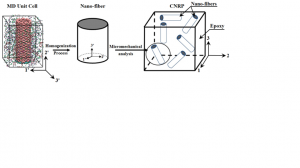 Systematic steps involved in multiscale modeling of nanocomposite [European Journal of Mechanics – A/Solids, 64, 69-84  (2017)]